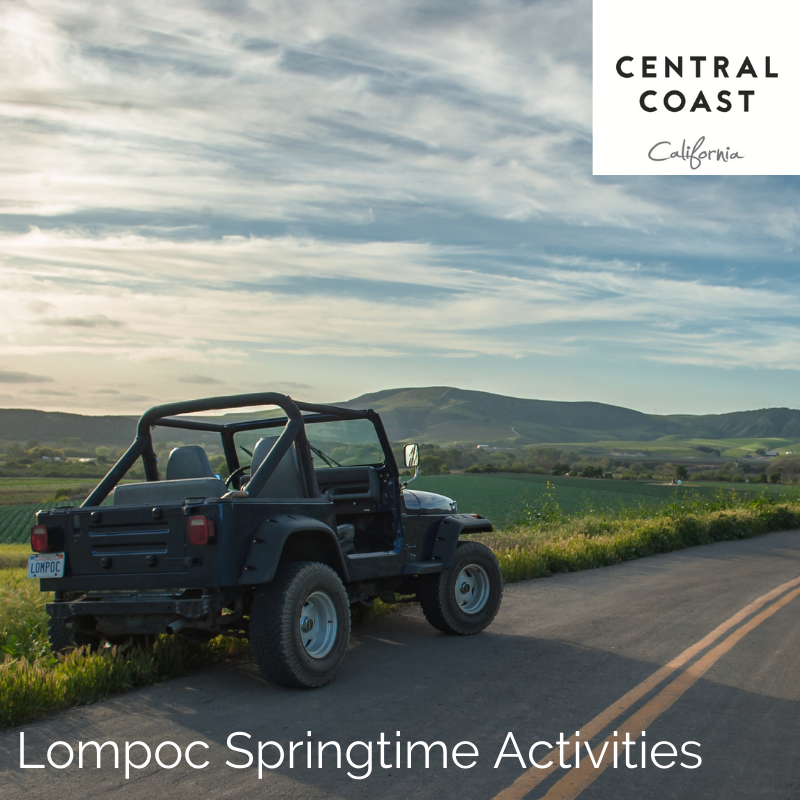 5 Bucket List Activities You Should Do on a Springtime Trip to Lompoc
---
Spring in Central California provides ideal vacation weather. The mild, sunny weather brings life to coastal cities and quaint inland towns where wildflowers bloom, outdoor restaurants come to life, and local vineyards become a gathering place.
For Lompoc, a town just 30 minutes from the Pacific Ocean, spring is especially welcoming. Since it's still considered offseason, Lompoc hotels offer great rates and the attractions are much less crowded than during summer.
We've created a springtime bucket list of five things visitors should add to their Lompoc itinerary.
---
1. See and smell vibrant flower fields
The spring weather sparks a flower bloom in Lompoc unlike anything you've ever seen. From the pastel purple of Larkspurs to the mustard-colored Bupleurum, the array of colors sprawled across farm fields is a delight to see and photograph.
To help find flowers in bloom, check out the Bloom Tracker on Explore Lompoc's website.
2. Tour the "New Wine Country"
California is historically known for its excellent wines, but you don't need to go to Napa Valley to sip the best vino. The cool temperatures that circulate through Lompoc are ideal for cool weather wines like pinot and chardonnay.
The Lompoc Wine Ghetto, a cluster of small urban wineries and tasting rooms in an industrial park, is a great place to start your wine tour. Two other wineries are just a few blocks away in Midtown, and outside the city limits you'll find estate wineries and vineyards in the Sta. Rita Hills region.
3. Go skydiving
Every bucket list should have a heart-pounding, "I-can't-believe-I'm-doing-this" activity. In Lompoc, that activity is skydiving. Skydive Santa Barbara offers the highest tandem jump on the west coast, with an adrenaline-pumping 18,000-foot-high leap.
The company is fully recognized by the FAA and has 15 years of experience.
4. Walk back in time and experience mission life
La Purisima Mission was founded in 1787. At its peak, an estimated 200,000 people, including Chumash people and Spanish settlers, lived and worked on the mission grounds.
Today, the mission is the most extensively restored mission in California, with ten restored buildings and living history events happening regularly.
You'll also find 25 miles of trails wrapped around the mission, which offer tranquil walks in nature.
5. Experience the wonders of nature by hiking
The valley has dozens of winding paths to travel. One of the most popular hikes is Bodger Trail. This 1.5 mile trek is a bit steep, but at the top you'll be rewarded with a sweeping view of Lompoc Valley.
You can also wander through a trail leading to a 100-foot waterfall. Nojoqui Falls Park Trail is a quick, 15-minute walk to the cascading water.
For those looking for a workout, try Point Sal Overlook. The 10-mile trail offers panoramic views of the ocean, seasonal wild flowers, and an abundance of wildlife.
---
Are you ready to complete this list? These activities give visitors a chance to experience thrilling adventures, take in calming views, and taste regional favorites that will encourage you to visit Lompoc again and again.
Learn more about Lompoc at Explore Lompoc.
---
Download or Request a Central Coast Visitors Map here.
Discover all of California's Central Coast here.
May 2021