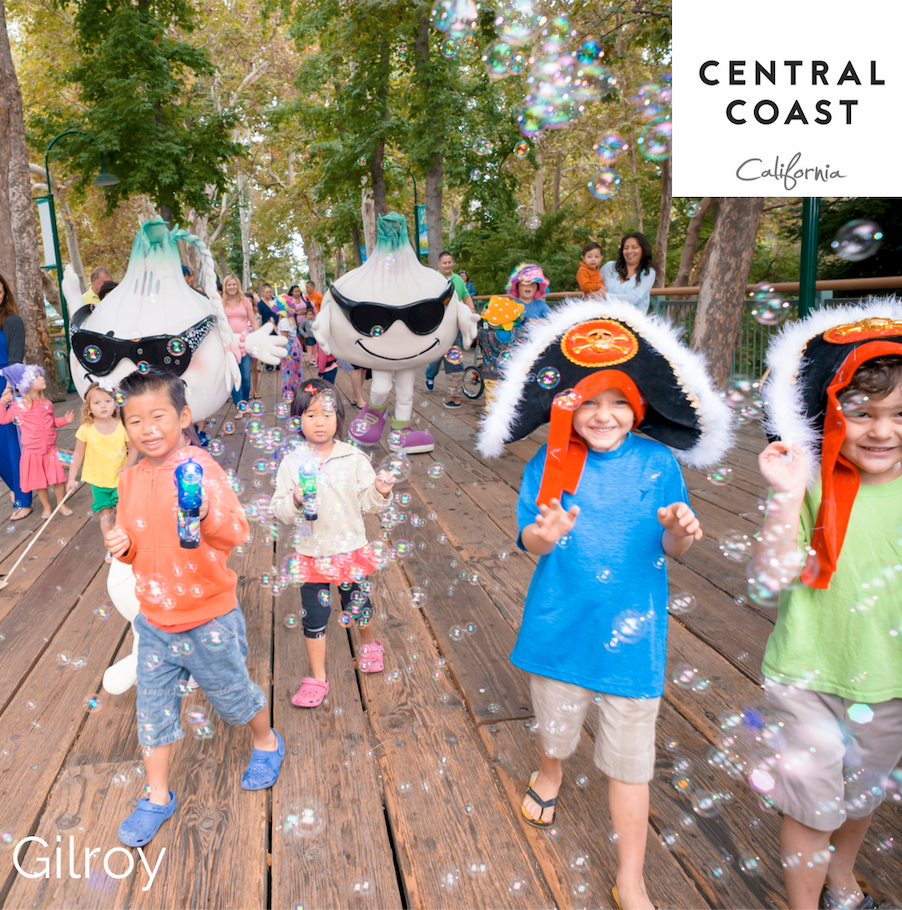 Plan a Fun Family Getaway to Gilroy
If you and your kids are tired of being cooped at home, now's the time for a great Gilroy getaway! You'll find plenty of exciting attractions and fun places to explore in the Garlic Capital of the World.
Happy Birthday Gilroy Gardens!
Gilroy Gardens Family Theme Park is one of the Central Coast's "hidden gems" and a wonderland for families with young kids. The park had to wait a whole year to properly celebrate its 20th season, but this is one big birthday party you won't want to miss!
Gilroy Gardens officially re-opens on May 22, 2021. There will be birthday party festivities going on all season long, including a Birthday Clubhouse, special themed "party patios," a live musical show, and Memory Spots that showcase the park's unique history. And, of course, there will be cupcakes—with lots of sprinkles!
The 40+ rides and attractions at Gilroy Gardens are spread out over 28 lushly landscaped acres, with over 10,000 trees and plenty of wide-open natural spaces to explore and play together. There will be protocols in place to ensure that children and their families can stay healthy and safe while enjoying all the magic the park has to offer.
Get Up Close with the Big Birds
The Gilroy Ostrich Farm is one of California's largest ostrich farms and a great place for a fun family adventure. As you take a self-guided tour around the farm, you'll learn all about ostriches and ostrich farming and can also visit with alpacas, sheep, goats, pigs, rabbits, and chickens.
Casa de Fun for Everyone
Be sure to make a "pit stop" at the iconic Casa de Fruta Orchard Resort, where you'll find an incredible selection of farm-fresh produce, dried fruits, nuts, and gourmet goodies—as well as an old-fashioned candy shop, 24-hour restaurant, wine tasting, the "Casa de Choo Choo" train ride, and much more.
Outdoor Adventures
With countless hiking and biking trails at Coyote Lake–Harvey Bear Ranch, Mount Madonna, and Henry W. Coe State Park, Gilroy is the perfect place to explore and enjoy the outdoors. You'll also find gorgeous golf courses for all skill levels.
Tasty Trails
Who's getting hungry? Follow the Road to Garlic to find the very best garlic shops and restaurants, where the town's signature spice is always on the menu. Be sure to explore the Gilroy Taco Trail for delicious, authentic and affordable Mexican food. Gilroy is also home to over 35 wineries and tasting rooms along the scenic Santa Clara Valley Wine Trail.
Plan Your Gilroy Getaway
Image courtesy of Visit Gilroy.
Download or Request a Central Coast Visitors Map here.
Discover all of California's Central Coast here.
Apr 2021