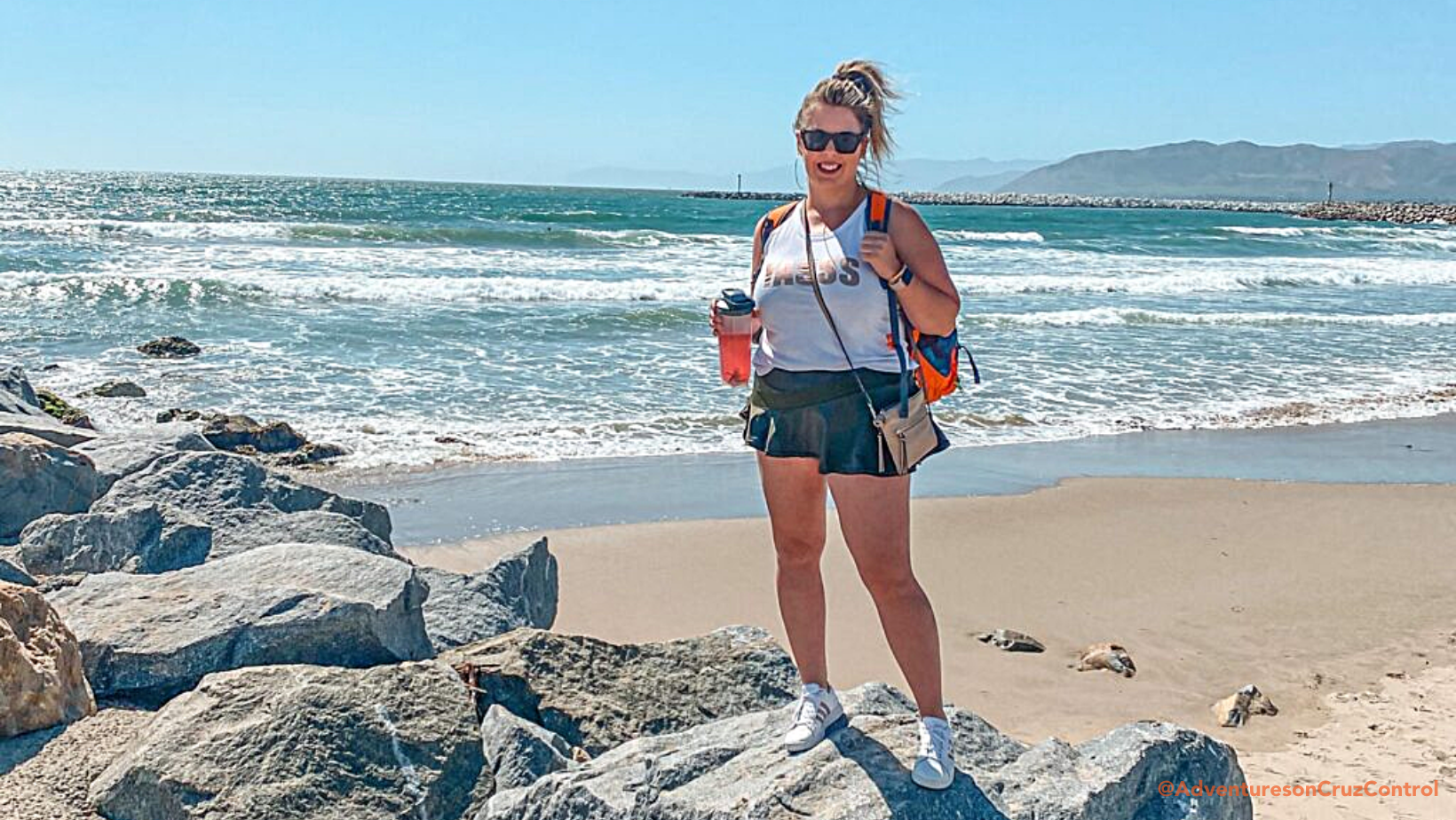 Adventures on Cruz Control – Family of 5 Takes a Month-Long Road Trip up the Central California Coast. Tip: Save for Planning Your Next Road Trip! 
Roadtripping along the California Coast is an experience everyone needs to do once in their lifetime. If you've ever been to California you already know that depending on where you are, it can feel like a different state, heck..a different country at every stop along the way. We started our road trip in Ventura and traveled almost 350 miles up the coast. Here's a glimpse into our month-long adventure! 
Before we dive in, let's set the scene. We're a family of five traveling with our three kids (ages 7, 13, and 21) in our 41ft RV (fifth wheel.) Some of our trip was planned beforehand such as the Monterrey Bay Aquarium (needed reservations days in advance) but many of the experiences along the way we tried to just let happen. Who doesn't love an unplanned afternoon happening upon tucked away places off the beaten path! Those spontaneous adventures can often be the most memorable. I think if you remember anything at all from this post, remember THAT part.
Ventura, CA, the first stop on our way up the coast, was a very eclectic, yet laid-back vibe. To really explore this area, we set up camp in Ojai (Camp Comfort Park) about 25 miles from the coastline. If we were staying in a hotel, Airbnb, etc. we would have likely stayed closer to the coast but for us in our RV, we chose to be where it's most comfortable to drive, set up, and enjoy the peace and quiet of nature all at the same time. Ojai seemed perfect for that. Not to mention our site was just a few miles from downtown Ojai where the street was lined with tasting rooms and the quaintest of patio people-watching spots.
We made our way around Ventura for a couple of days. Day one was spent at the beach of course. Our youngest was so excited to finally reach the coast! We set up our beach spot at Surfer's Knoll. This popular beach spot was relatively quiet. There are some amazing spots along the rocks to stick your feet in the sand, build sandcastles, and dare I say, take a dip in the ocean. The water was a little too cold to swim in but we enjoyed the view. This beachfront is directly across from Ventura Harbor Village. That's where we spent the second half of our day. The harbor area is lively, with plenty of restaurants, boutiques, coffee shops, and there is the cutest boat rental shop where you can rent swan paddle boats. We had dinner at The Greek Meditteranean Steak & Seafood and ice cream after at the cutest ice cream shop, Coastal Cone Ice Cream, with harbor views. It was so relaxing to have dinner and just people watch up and down the waterfront.
For our second day in Ventura, we headed downtown for some live music and patio hopping. I'm a bit of a downtown junkie. Every little city or town we visit, I'm finding and exploring their downtown area. And Downtown Ventura did not disappoint. They have several streets blocked off for strolling, patio dining, shopping, and everything you can think of in a vibrant downtown atmosphere. They even have this retro-styled Century 10 movie theater. Picture-Perfect. We started the night with some local brew at Anacapa Brewing Co. and finished our patio-hopping at Finney's Crafthouse & Kitchen. You can't beat the vibe on the patio in the summer in Ventura.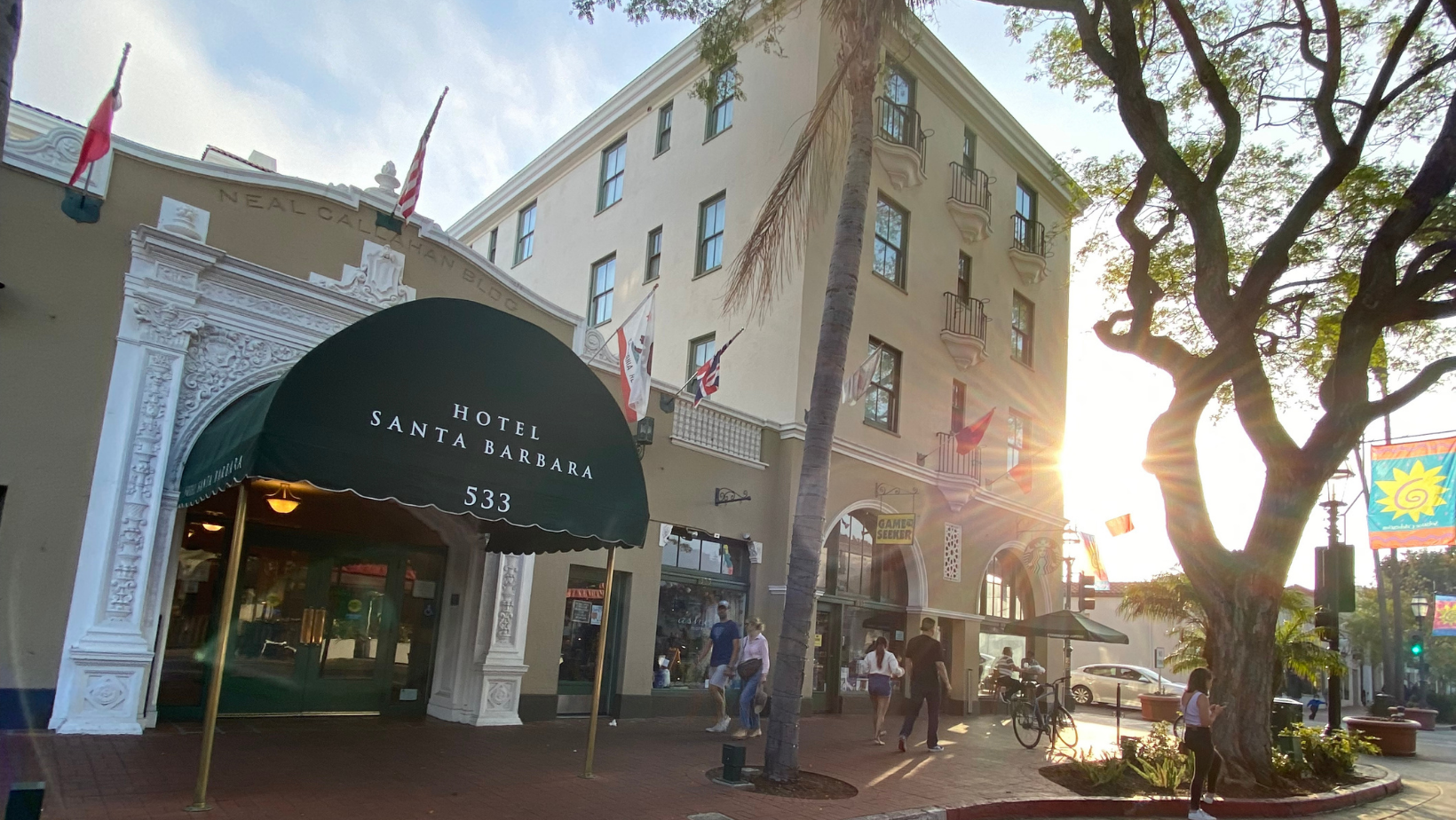 After a few days in the Ventura Region, we made our way up Highway 101 and into the Santa Barbara Region. Of course, we had to explore Downtown Santa Barbara. Not only do they have this amazing blocked-off downtown corridor, but it was really easy to park and walk in that area. We had dinner at Sandbar, this great little Mexican restaurant right on State Street. The food was great but more importantly, their margaritas were AMAZING. They are hand-shaken and only use local, farmers' market-fresh ingredients. Just hanging out and people watching was so fun here…the vibe was that laid-back, California vibe we just can't get enough of.
We made our way up the coast off Highway 101 and chose our next spot to settle for a few days, Vines RV Resort. This place was amazing. The kids had a blast in the pools, the spa, I finally got back to my workout routine thanks to their brand-new gym. It was also very well situated near Paso Robles which was a stop on our route that I couldn't wait to get to. Not only did I read that they had one of the most charming, you guessed it, downtowns, they are also right in the heart of wine country. I spent an afternoon on one day of our trip at the Eberle Winery, by myself! If you're a Mom with ANY amount of kids, you know how exciting that was. Just to have 1.5 hrs of pure peace, no "Mom questions", no questions period except for mine about the incredible wine I was tasting. You know I left that vineyard with four bottles of wine. I would have bought everything I tasted but I held back…for the sake of storage in our RV. LOL
On our second day in the area, we headed for that charming downtown I teased on. It's more than charming. Downtown Paso Robles has THE MOST amazing gazebo that sits right in the middle of the town square amidst this enormous green park. We had a blast downtown. So much so that we came back twice, the second night to try out their family-owned downtown movie theater, Park Cinema. This downtown area has it all, quaint coffee shops, candy stores, boutiques, tasting rooms, cinema, park, playground. Do you ever visit a new place and are just overwhelmed by everything you see that you can't decide which direction to head first? That was us. I made any excuse to come back downtown for something we needed. I couldn't get enough of it!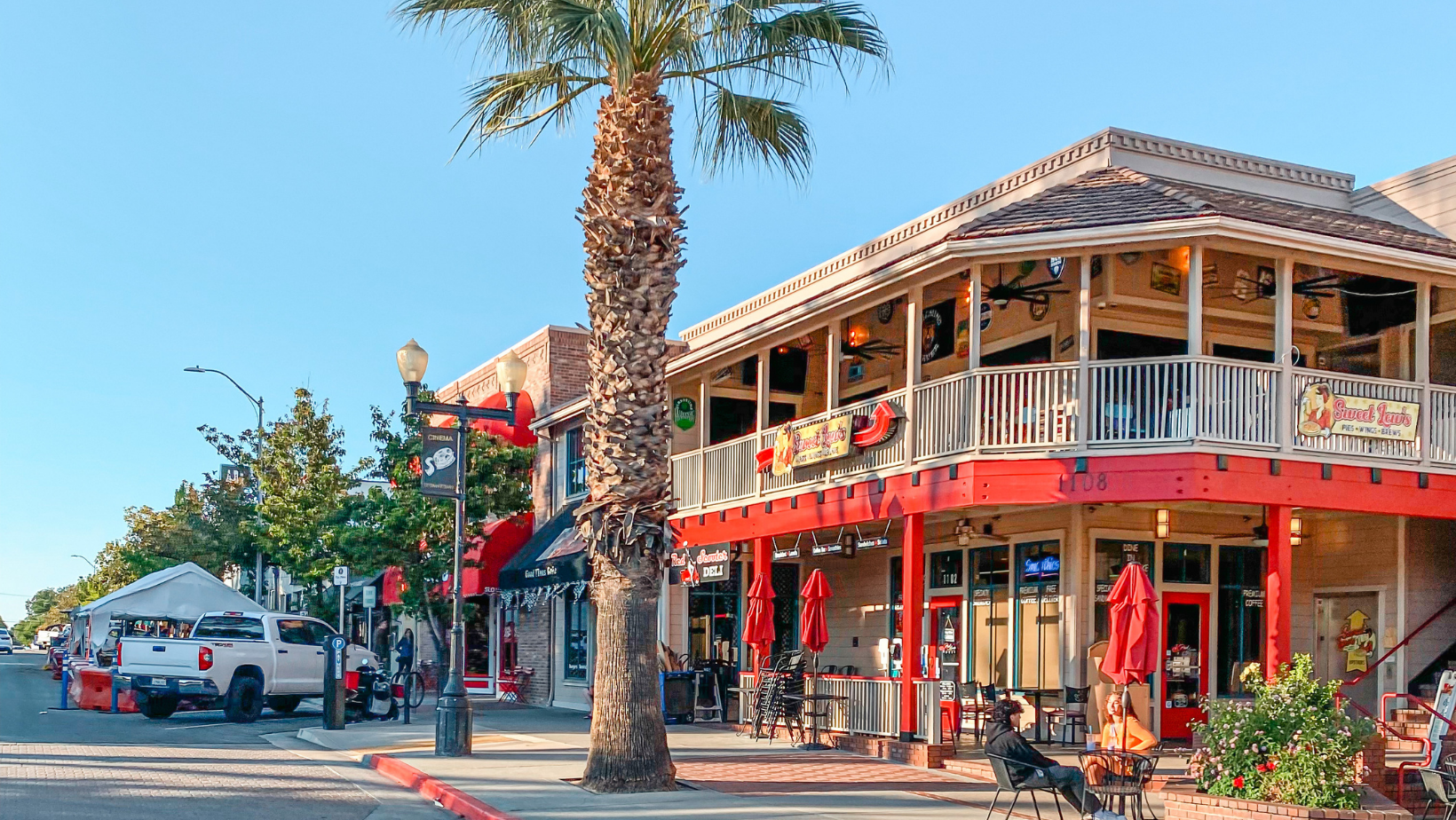 San Luis Obispo was about 30 min south of our resort so we headed back down the 101 for their Thursday night farmers market. When I say this is a farmers' market, I mean it! We were living for the fresh fruit stands and fresh produce in Ojai and Ventura, but this farmers market in downtown San Luis Obispo was on another level I had never seen. The market stretched for blocks with everything you can imagine, great live music, fresh, made-to-order smoked meats, and treats. Fresh…everything. Produce, lavender, cheeses, ice creams, spices…the list could go on for days. A tip though: bring cash or have Venmo set up before you go. Most vendors will not accept a credit card so they are cash only or they have a Venmo code you can scan and pay quickly there.
Another must-do in this area that we couldn't pass up was a trip to Morro Rock Beach. Morro Rock is an iconic California coast landmark right off the beach and a great photo opp as you make your way up or down the coast. We spent time on both sides of the rock, the beachside walking the beach and collecting sand dollars, and on the marina side. We drove over to Morro Bay to enjoy some fresh seafood. It was so fun for our youngest to see the sea lions playing and basking in the bay on our way there. We ate oysters and clam chowder at Tognazzini's Dockside. This was probably the best clam chowder I've had on this entire trip. And I'll just say I've been on somewhat of a clam chowder tour.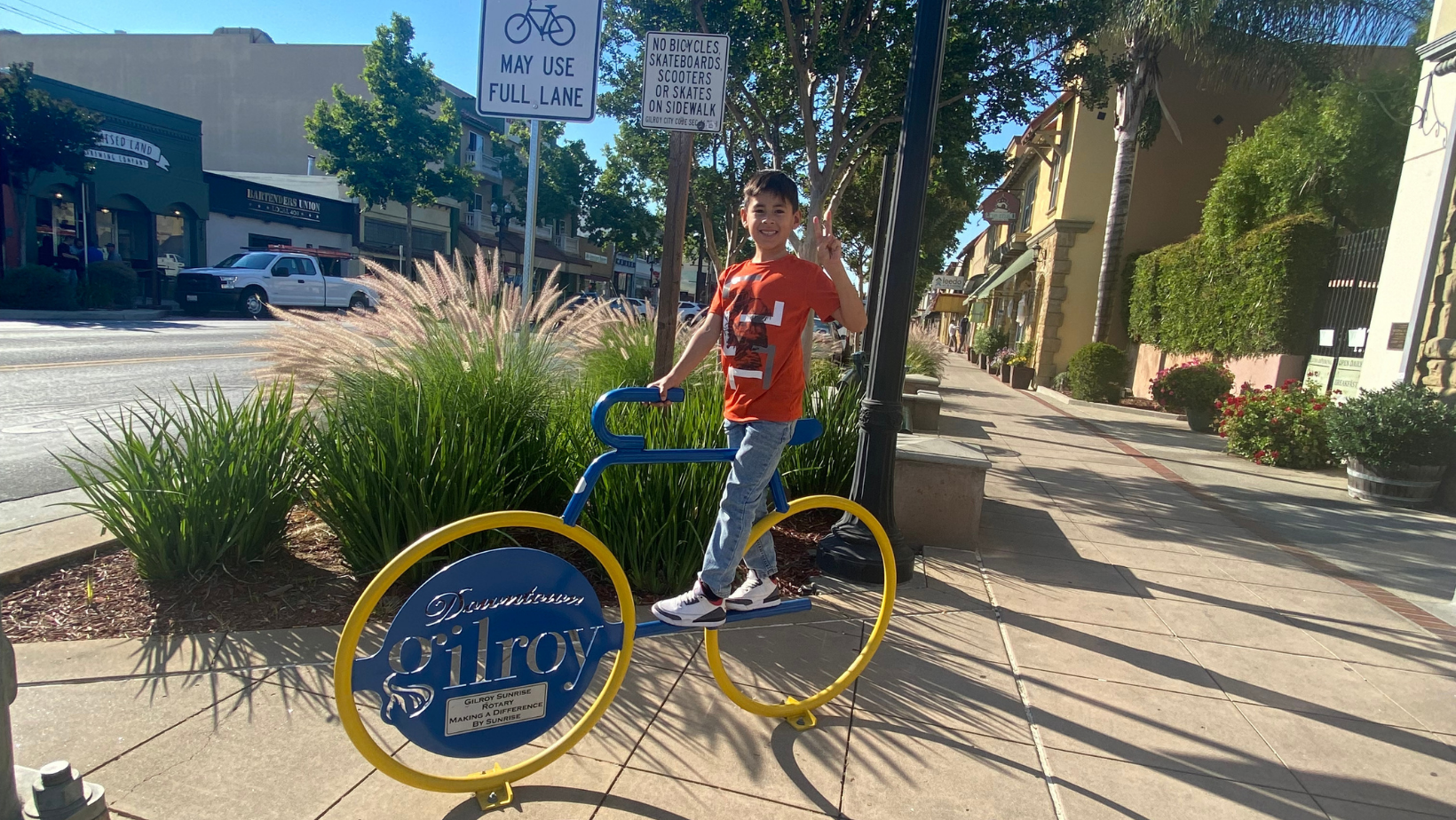 After a few days exploring the San Luis Obispo region, we headed up the 101 and spent the last part of our Central California Coast trip camping at Yanks RV Resort, in the heart of Salinas Valley. What we loved about this location was the proximity to all the places we had on our must-do list in Monterrey County. First up on our must-do list, the Monterey Bay Aquarium. This trip was by far one of the best day trips we took. We spent the afternoon exploring the ocean life at the aquarium, looking out over the bay from the many boardwalks and walking down Cannery Row. It's such a unique area of town, the street at one point was full of sardine canning factories that are no longer operating. In their place now are quaint shops, restaurants, and fun little arcades, escape rooms, and more for the kiddos to explore. This area all-around felt like we were checking something amazing off our bucket list. It really began to bring to life the charm and vibe of that quintessential coastal California experience for me.
Later that week we made our way up to Salinas for some shopping at Northridge Mall. If there is one thing my teen daughter can sniff out pretty fast…it's a shopping mall. There were quite a few stores in the mall my daughter loves, H&M being one of the nicest we've been to in a while. The mall area also had a Hobby Lobby, so I was pretty happy with it too.
I think the highlight of our time in this area were the couple of days we spent in Gilroy. We came across this family theme park, Gilroy Gardens, while researching the places that we'd all love and I'm so glad we didn't pass this one up. It was hands-down the most relaxed, beautiful, pleasant theme park visit we've ever had as a family. I can't say enough about it..the weather was perfect, the crowds were small, the rides were great for everyone…and our kids are spread out in age so this is usually one of those things we deal with at theme parks. Maybe 2 of the 3 at best want to ride the same ride, but everyone wanted to ride it all. Even the smaller kiddie rides were fun. They just do an amazing job with this park. We spent all day here and we didn't even do the water park side of the park. If I was booking again, I would buy tickets for two days and do one day dedicated just to the water park.
Our second day in Gilroy was of course, downtown Gilroy and a little sampling of tacos from their taco trail. On our stroll through their really adorable downtown, we happened on BookBuyers, a used book store. There is something about the smell of a used bookstore that gets me all nostalgic. It was hard not to spend the entire afternoon in there. From rows and rows of books, first editions, comics, records, DVDs, games, puzzles, you name it. We bought 6 books in that store and only spent $20. Highly recommend that book store. Now my kids ask me each time we visiting a new downtown if they have a book store, and very few do! After the bookstore visit and a stroll through downtown, we made our way over to Los Pericos Taqueria where we ate ALL the tacos we could. Being from Texas, I can without a doubt tell you that if you're a Mexican food/taco junkie like our family, this area of Central Cali up from the Salinas Valley has some of the most authentic Mexican cuisine we've seen since we left Texas.
We could not spend time in the Monterey Bay area without doing a day trip over to the beaches of Carmel and driving through the Carmel-by-the-Sea fairytale cottages. This article was great for us when planning where to drive and what to see. These little cottages are surreal like they jumped out of a fairytale storybook. The drive over is well worth the view and if you can, make time to stop by the art galleries in Carmel Village. It feels like a whimsical artsy type of day that could only be finished off with a stop into Tuck Box Tea House.
We wrapped up our time with the most amazing fireworks show on July 4th at Freedom Fest in Morgan Hill. We quickly found out that this fireworks show draws people from all over Northern California and is considered one of the best fireworks shows in the state. It was an amazing end to our time on the Central California Coast.
This trip was wonderful and I'm so glad we took our time traveling up the coast. As an RVer, we made some adjustments to our route to make sure we could safely navigate to the RV parks we reserved but if we weren't traveling in our RV, I would absolutely recommend Highway 1 for a large part of the route up the coast. We managed a bit of that drive on a few of our day trips, but we tow our fifth wheel with a long bed dually truck so we didn't attempt much of the route. Hope this gives you plenty of ideas as you plan your trip up (or down!) the Central California Coast!