Amtrak San Joaquins' Thruway Bus
Experience California and the Central Coast like never before with Amtrak San Joaquins' Thruway Bus service. Soak in stunning views of pristine beaches, iconic coastal towns, rolling hills, and bountiful vineyards as you journey in comfort and convenience.  Exchange the hassles of driving or securing a rental car for our spacious and comfortable seating. Enjoy the benefit of spotless restroom facilities, complimentary high-speed Wi-Fi, and ample charging stations for your devices. 
With Amtrak San Joaquins' Thruway Bus Service, your journey is as enjoyable as the destination itself.
Amtrak San Joaquins is your connection to over 100 destinations throughout the state. If you're traveling toward the Central Coast, our Route 18 is your passport to the vineyard-laden landscapes of Paso Robles, Atascadero, and San Luis Obispo, with a tranquil stop at Grover Beach. Further south,  Route 10 extends to the sunny promenades of Santa Barbara, Carpinteria, Ventura, Oxnard, Santa Paula, and Fillmore. With city-to-city travel available on both routes, you can now fully explore the region's riches in a cost-effective and relaxed manner.
If you're traveling further throughout California, why not utilize the extensive network of trains and Thruway Buses. Connect to the train at the Hanford station or the Bakersfield station, and from there the only limit is your own imagination.
We believe in making your trip not only memorable but also affordable. Take advantage of our discounts ranging from half-off tickets for children aged 2-12, senior discounts, student discounts, and much more.
When you take the San Joaquins, your vacation starts on the way to your destination.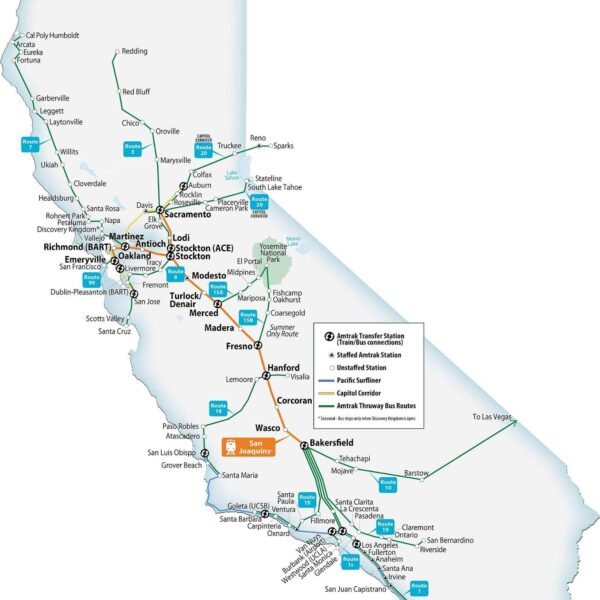 For More information on Route 10, visit
https://amtraksanjoaquins.com/trip-idea/route-10/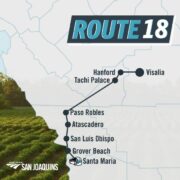 For More information on Route 18, visit
https://amtraksanjoaquins.com/trip-idea/route-18/
View the full statewide map here